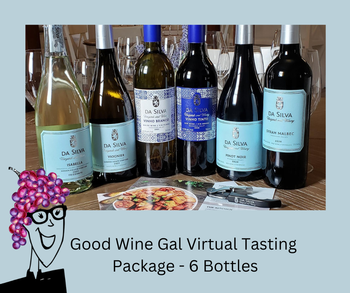 Good Wine Gal - Virtual Wine Tasting 6 Pack
Wine Wednesday March 29 2023 530pm
Learn about Da Silva Vineyards and their 70+ years of farming history as Richard tells his story and guides you through 6 of his wines with Good Wine Gal, Barb Wild.
Each wine showcases the uniqueness of the vineyard it comes from and reflects the terroir diversity of our 11 vineyards.
To join us for this complimentary event, registration must be made in advance. To avoid disappointment Reserve Now space is limited!
In this wine package you will find you will find the following wine
2021 Isabella - Sparkling Wine
2021 Viognier - Wine Club Exclusive
2021 Vinho Branco - Traditional Series
2020 Vinho Tinto - Traditional Series
2020 Pinot Noir - New Release
2020 Malbec/Syrah - Wine Club Exclusive
As a special treat, with this virtual tasting package you become a Wine Club Member for a day!
In this package you have access to our...
Wine club wine- Viognier
Wine club prices - 10% member savings
Wine club recipes - from our restaurant The Kitchen
Wine club preferred - flat rate shipping of $25
Complimentary tasting experience for 2 at our tasting room - $30 value
Branded Da Silva Vineyards corkscrew
Shipping Deadlines : To make sure that your virtual tasting packages arrive in time for the event please order no later than March 23rd for BC,AB and March 20th for SK& MB. Other provinces may require more time and incur additional shipping charges.
For any questions please contact us at info@dasilvavineyards.com
Virtual Tasting Experience March 29th, 2023